How to Create a Powerful Customer Testimonial Video (Ep. 173)
by TODD HARTLEY, on Sep 11, 2018 10:23:00 PM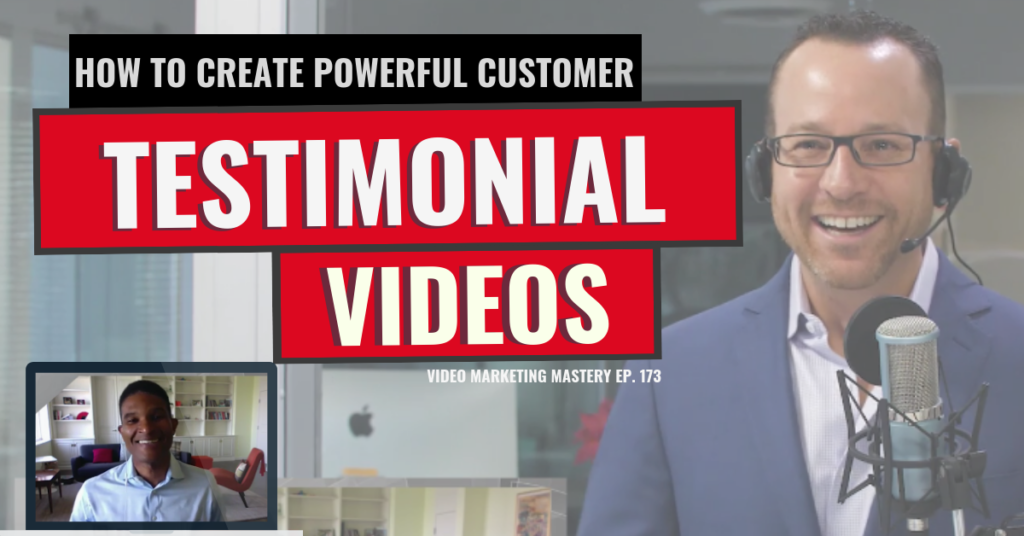 There's a reason why so many businesses are using both video and testimonials: because they work.
And when you put them together, you have a marketing asset that brings more traffic to your site, builds trust with your audience, drives social shares and increases conversions.
But creating a great video testimonial isn't easy — it takes a great investment of time and effort. However, a well-made video testimonial can be one of the most valuable pieces of content that you'll ever create.
So how can you ensure that you create the right testimonial video, the first time?
My guest on the podcast is Victor Haseman, a strategic consultant who has advised companies like AOL and Salesforce on how to use video to amplify results.
Together, we share the best tips, tricks, and strategies for creating powerful customer testimonial videos that you can use throughout your sales and marketing campaigns.
So grab a snack, fill up your water, and tune in to this week's episode of Video Marketing Mastery!
If you like the show, please leave us an honest rating and review on iTunes. You'd really be helping me out!
NOTE: You can also listen to the episode here, or download the episode to your device (right click and save).
In This Episode, You'll Learn:
How to use customer testimonials in your sales and marketing funnels

Why the customer testimonials story format is so valuable

How to distribute your customer testimonial video effectively

How to adapt your testimonial video to attract different types of buyers

The common mistakes to avoid with customer testimonial stories

How to measure the success of a customer testimonial video

The ideal budget for a customer testimonial video
Links & Resources
Thanks for Listening!
Thanks so much for listening to the show! Don't forget to subscribe on iTunes to get automatic updates when new episodes are available.
If you enjoyed the show, please share it using the social media buttons you see on the left.
Also, it would mean a lot to me if you would leave an honest rating and review on iTunes. Ratings and reviews not only help me serve you better, but they make a huge difference in the show's ranking on iTunes.
If you have any questions you'd like featured on the show, or if you would like to suggest an expert (yourself included!), please let us know HERE.