Customer Psychology And The Buying Decision (Ep. 210)
by TODD HARTLEY, on Jul 25, 2019 2:35:00 AM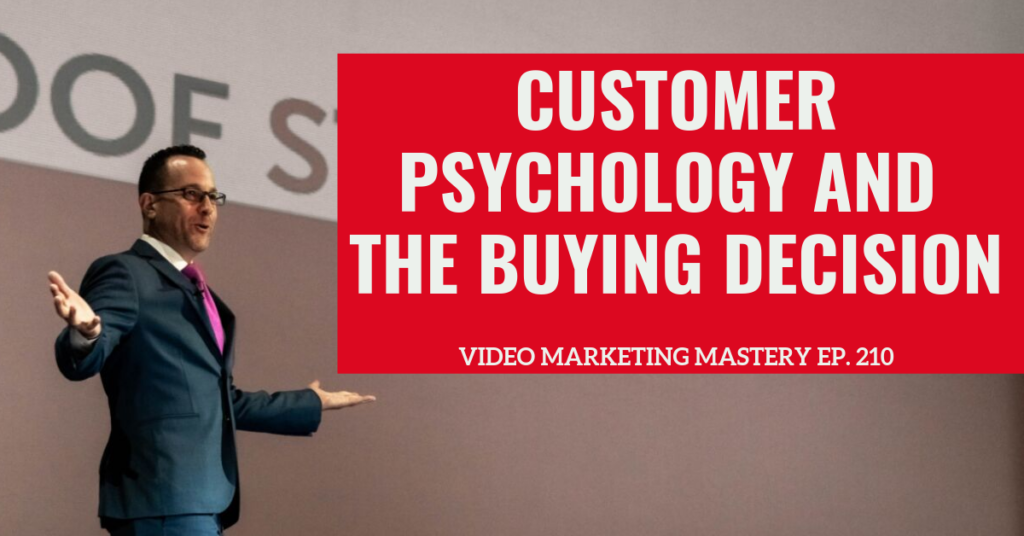 Whether you know it or not, psychology is involved with the buying decision.
And one way to persuade your customer to buy is to use videos to tell stories. But why is video storytelling so effective?
Video allows you to get your message across more clearly. Stories connect to a viewer and it becomes relevant to their life, it's tangible. Combining that with the power of video, you have an unstoppable duo.
In this week's episode, I interview Cory Bergeron, CEO to Pitch Media (a digital ad and video production agency) to go into detail about the customer psychology and their buying decisions. You'll also learn if you got what it takes to be a successful salesman and what you can do to increase your success rate.
If you're looking to make more sales for your company, then tune into this week's episode of Video Marketing Mastery!
If you like the show, please leave us an honest rating and review on iTunes. You'd really be helping me out!
NOTE: You can also listen to the episode here, or download the episode to your device (right click and save).
In This Episode, You'll Learn:
Why great salesmen lead to great ideas

Why it's important to find your customer's pain points

Why stories are effective and how to use them properly

Why you need marketers to create your stories for your brand
Links & Resources
Thanks for Listening!
Thanks so much for listening to the show! Don't forget to subscribe on iTunes to get automatic updates when new episodes are available.
If you enjoyed the show, please share it using the social media buttons you see on the left.
Also, it would mean a lot to me if you would leave an honest rating and review on iTunes. Ratings and reviews not only help me serve you better, but they make a huge difference in the show's ranking on iTunes.
If you have any questions you'd like featured on the show, or if you would like to suggest an expert (yourself included!), please let us know HERE.