How Changes at Google, GoPro, and Instagram Impact Digital Marketers (Ep. 138)
by TODD HARTLEY, on Feb 15, 2018 7:34:00 AM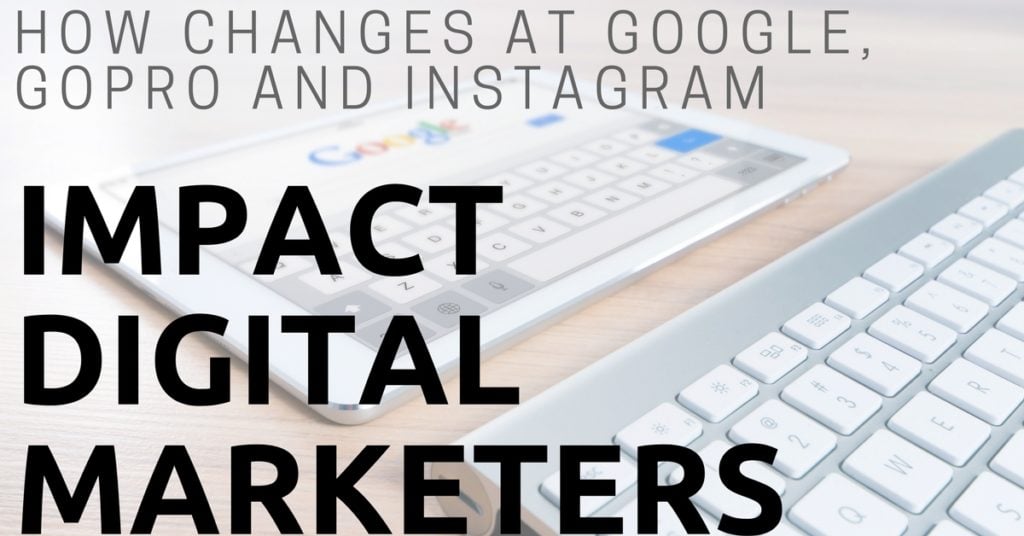 Ch-ch-ch-changes are all around us, especially those of us who are digital marketers. The nature of digital marketing is that it's ever-changing and volatile.
If you want to survive as a business today you need to be on the cutting edge at all times, the cutting edge of your industry and the cutting edge when it comes to marketing tactics.
Unfortunately, most businesses just find something that works and run it into the ground.
The internet is a great example of businesses failing to adopt trends until it's too late. Back in the early 90's companies laughed at me when I told them they needed to get online, but now you literally can't run a successful business without a strategic online presence.
Some of the most notable online organizations out there (think Facebook, Instagram, Google) have paved the way for online marketers to thrive, but many still choose not to learn from their successes.
I follow the latest video marketing news and stay ahead of the trends so I can keep you updated.
Join us for this episode of Video Marketing Mastery where I'll go over what Google and Instagram are doing that affects marketers and why GoPro can't keep up with an industry they created.
If you like the show, please leave us an honest rating and review on iTunes. You'd really be helping me out!
NOTE: You can also listen to the episode here, or download the episode to your device (right click and save).
In This Episode, You'll Learn:
Links & Resources
Gain access to our free Video ROI mini-course by signing up

here

Pitch us

a question that we can answer in a future podcast episode
Thanks for Listening!
Thanks so much for listening to the show! Don't forget to subscribe on iTunes to get automatic updates when new episodes are available.
If you enjoyed the show, please share it using the social media buttons you see on the left.
Also, it would mean a lot to me if you would leave an honest rating and review on iTunes. Ratings and reviews not only help me serve you better, but they make a huge difference in the show's ranking on iTunes.
If you have any questions you'd like featured on the show, or if you would like to suggest an expert (yourself included!), please let us know HERE.