Censorship, Bad Data, and the Future of Video in 2017 (ep. 57)
by TODD HARTLEY, on Jan 10, 2017 8:22:00 PM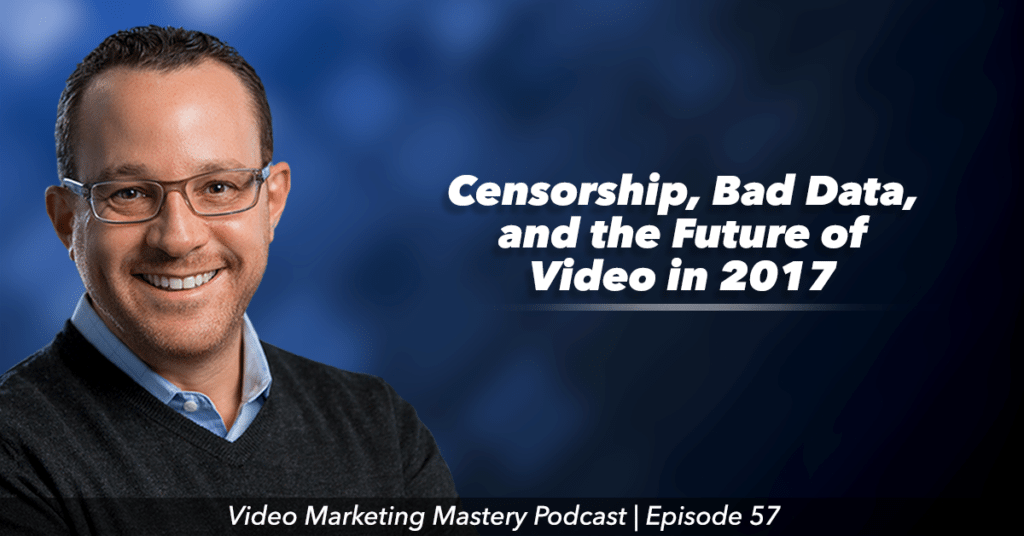 The new year is bringing us lots of fascinating news in the worlds of tech and video marketing.
Already, we're seeing a continued debate about the role of censorship by tech companies like Apple and Facebook.
Competition is causing social media giants to adopt questionable practices. And ranking on Google has become even more difficult than ever.
But there's one thing that's for sure: no matter where you look, video is going to be at the center of marketing, sales, and advertising, well into the future.
Want to learn more? Just listen to this week's episode of Video Marketing Mastery!
If you like the show, please leave us an honest rating and review on iTunes. You'd really be helping me out!
NOTE: You can also listen to the episode here, or download the episode to your device (right click and save).
In This Episode, You'll Learn:
If you're in any of the areas listed below,

reach out to me

and I'd love to meet-up to talk about your business goals

I'll be in San Francisco for the 35th Annual J.P. Morgan Healthcare Conference from January 9-12th

I'll be in Napa Valley, CA during the weekend of January 13th

The WireBuzz crew and I will be in Amsterdam for the European Cancer Conference Jan. 24 - 30th

News Update: Apple has

removed apps

by the New York Times in China at the request of their government

News Update: Facebook livestreaming reached a

record high

since it's launch but didn't provide the actual numbers when requested

News Update: Facebook now posts the top 10 videos of the week on their blog. You can take a look at the post here

News Update: a former Snapchat employee claims that the company has been

faking growth numbers

to boost its value in their IPO

News Update: Our very own Marcus Krieg and one of HubSpot's HubStars, will be speaking at an Upcoming Phoenix HUG: January 17, 2017

News Update: Forbes asked top agency executives to share what businesses should invest in;

their answer is video
Links & Resources
See Facebook's

top 10 live videos

for the first week of 2017

Tweet me at

@ToddHartley

if you want to share your prediction about what will happen with the Snapchat lawsuit

If you want a personal video, directly from me to you, go ahead and follow me on Twitter

If you'd like to learn how to rank in Google in 2017, you'll want to check out Marcus's HUG presentation.

Click here

to learn more about the event

Learn what kind of videos you should be making in for your business in 2017 by downloading my free

Topics Selection Worksheet
Check out my awesome new Heelies!