How Businesses are Adopting Video and the Biggest Trends (Ep. 160)
by TODD HARTLEY, on Jun 25, 2018 8:33:00 AM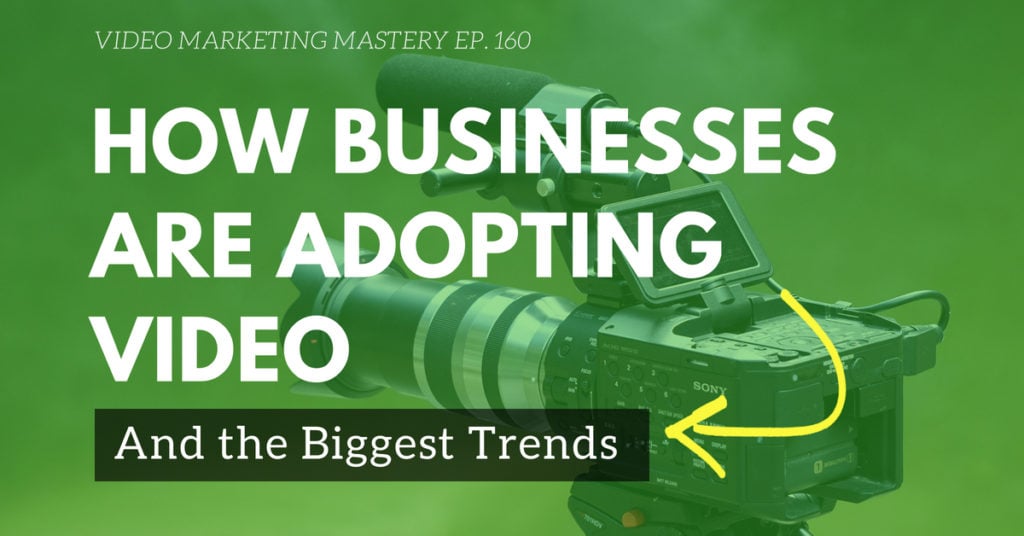 If you want to become a prolific video marketer then watch what other video marketers are doing, learn from their actions, and apply that knowledge to your own campaigns.
Don't get hung up on "how long should my video be?" Instead, focus on what's really important like, "how do I get my message across?"
Brands are finally realizing that video needs to be an essential tool in their marketing efforts, but a successful video always comes down the strategy and execution.
So, if you don't keep up with the trends, you'll have a hard time using video to your advantage. Luckily for us, Vidyard put together the 2018 Video in Business Report.
In this episode, I go over the 2018 Video in Business Report and give you the highlights that will make you a more prolific video marketer.
We'll talk about the most popular day and time for people to watch business videos, the most common videos produced, the number of businesses using video on landing pages and emails, and more.
Whenever you want to pump up the jam...add a video.
So if you're ready to improve your results with business video and do it the right way, the way that gets results and improves sales results then you need to tune into this episode of Video Marketing Mastery.
If you like the show, please leave us an honest rating and review on iTunes. You'd really be helping me out!
NOTE: You can also listen to the episode here, or download the episode to your device (right click and save).
In This Episode, You'll Learn:
How you and your clients stack up against other video creators.

What trends you should be aware of as a video marketer.

How video marketing saved the world from nuclear disaster.

Why you should be using video when you have a complex product or service.

Why you shouldn't get hung up on the length of your video.

The Highlights of

Vidyard's 2018 Video in Business Report.

The most popular time for B2B video views.

Why optimizing for mobile provides the best user experience for all users.

The optimal time of day to publish content.

How long it takes to create a great business video from start to finish.
Links & Resources
Gain access to our free Video ROI mini-course by signing up

here

Pitch us

a question that we can answer in a future podcast episode
Thanks for Listening!
Thanks so much for listening to the show! Don't forget to subscribe on iTunes to get automatic updates when new episodes are available.
If you enjoyed the show, please share it using the social media buttons you see on the left.
Also, it would mean a lot to me if you would leave an honest rating and review on iTunes. Ratings and reviews not only help me serve you better, but they make a huge difference in the show's ranking on iTunes.
If you have any questions you'd like featured on the show, or if you would like to suggest an expert (yourself included!), please let us know HERE.