20 Business Problems That Can Be Solved by Video (Ep. 45)
by TODD HARTLEY, on Oct 18, 2016 6:02:00 AM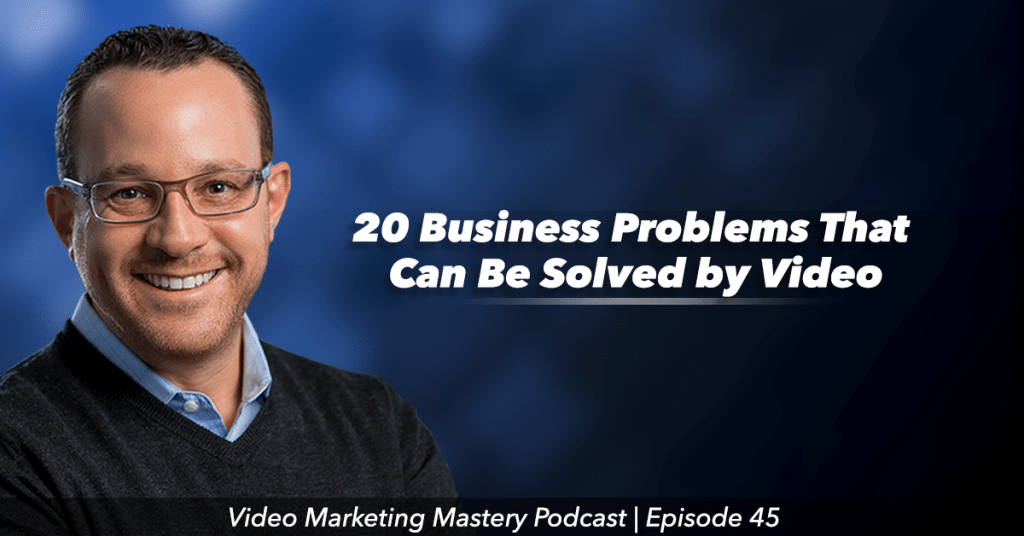 When you're faced with a significant business problem, it often feels like a dead end.
If you don't have a clear path for overcoming an obstacle, it can easily shelved for a later date...that never comes.
But in my experience, it's these difficult challenges that present the greatest opportunity for ROI.
So when I'm not working to resolve my own company's business challenges, I'm helping clients handle theirs. Entering new global markets, training an inexperienced sales team, and handling customer objections with ease are just a few examples of what we do for our clients every day.
And as you know, our secret weapon is video.
In this episode, you'll discover 20 common business problems that can be solved by video... and how to do it!
You may even uncover business problems you didn't know you had. That's why this is an episode you definitely won't want to miss.
Get the episode on iTunes: http://apple.co/2dnzBeU
If you like the show, please leave us an honest rating and review on iTunes. You'd really be helping me out!
NOTE: You can also listen to the episode here, or Download this episode to your device (right click and save).
In This Episode, You'll Learn:
News Update: YouTube reports a record-breaking 40% increase in views for the second presidential debate
News Update: Livestreaming is here to stay; Twitter reports that 327,000 viewers streamed the New England Patriots and Houston Texans game on their platform
News Update: Learn why Apple created a "Debates" section in Apple TV
Find out how WireBuzz uses video to help customers and stay top-of-mind
News Update: YouTube top 10 videos in September aren't just limited to brand agencies, and Forbes noted that 2 of those videos were created by YouTube all-stars instead
News Update: YouTube censored 21 PragerU videos by placing them on "restriction mode" for the political views of the channel's creator, Dennis Prager
News Update: Trump responds to assault allegations with a Facebook Live video featuring four women who have a troubled past with Hillary and Bill Clinton

How to reduce your sales cycle, generate leads, extend your reach, speed up your buyers' journey, and increase website conversion rates with video

Why you should be using video in your ad campaigns

How to use video to overcome buyer resistance, reduce churn rates, and build trust with prospects

How video improves the impact of your email campaigns

Why video is a great tool for training your team and explaining complicated processes
Links & Resources
To get started with video, be sure to download the free Topics Selection Worksheet
Thanks for Listening!
Thanks so much for listening to the show! Don't forget to subscribe on iTunes to get automatic updates when new episodes are available.
If you enjoyed the show, please share it using the social media buttons you see on the left.
Also, it would mean a lot to me if you would leave an honest rating and review on iTunes. Ratings and reviews not only help me serve you better, but they make a huge difference in the show's ranking on iTunes.
If you have any questions you'd like featured on the show, or if you would like to suggest an expert (yourself included!), please let us know HERE.