Celebrating Audience Stories From Around the World: Part 3 (Ep. 202)
by TODD HARTLEY, on May 21, 2019 2:18:00 AM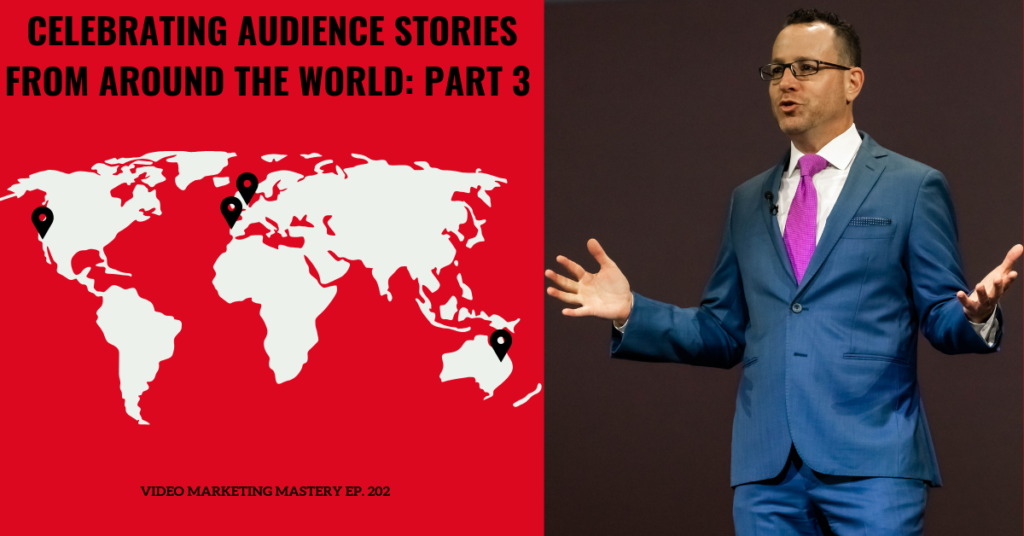 Wrapping up our 3 part series, we have 4 interviewees from around the world who share their video marketing results and their biggest takeaways from the podcast.
In this week's episode, we're interviewing Grant White, João Seiça, Ben Amos, and Stuart Smith.
Grant shares how he used videos to expand businesses by teaching them the benefits of using video marketing.
João Seiça discusses how to educate business owners on using video to convert more leads into customers.
Ben Amos, an agency owner, shares his secrets for amplifying results for his clients using smart video strategy.
Stuart Smith reveals how he advises smaller businesses on the best direction for their digital marketing needs.
It's amazing to see the community we've built over the last 202 episodes and I'm grateful for each and every one of you that have listened to the podcast.
If you want to get inspired by fellow listeners then tune into this week's episode of Video Marketing Mastery!
If you like the show, please leave us an honest rating and review on iTunes. You'd really be helping me out!
NOTE: You can also listen to the episode here, or download the episode to your device (right click and save).
In This Episode, You'll Learn:
The new secret password to get into the WireBuzz Insider group

Why you NEED to offer more than just videos for your client

Why it's just as important to be a teacher as it is a creator (if you want more conversions)
Links & Resources
Thanks for Listening!
Thanks so much for listening to the show! Don't forget to subscribe on iTunes to get automatic updates when new episodes are available.
If you enjoyed the show, please share it using the social media buttons you see on the left.
Also, it would mean a lot to me if you would leave an honest rating and review on iTunes. Ratings and reviews not only help me serve you better, but they make a huge difference in the show's ranking on iTunes.
If you have any questions you'd like featured on the show, or if you would like to suggest an expert (yourself included!), please let us know HERE.