Amsterdam, Facebook Live Controversies, and Personalized Video (Ep. 60)
by TODD HARTLEY, on Jan 31, 2017 8:30:00 PM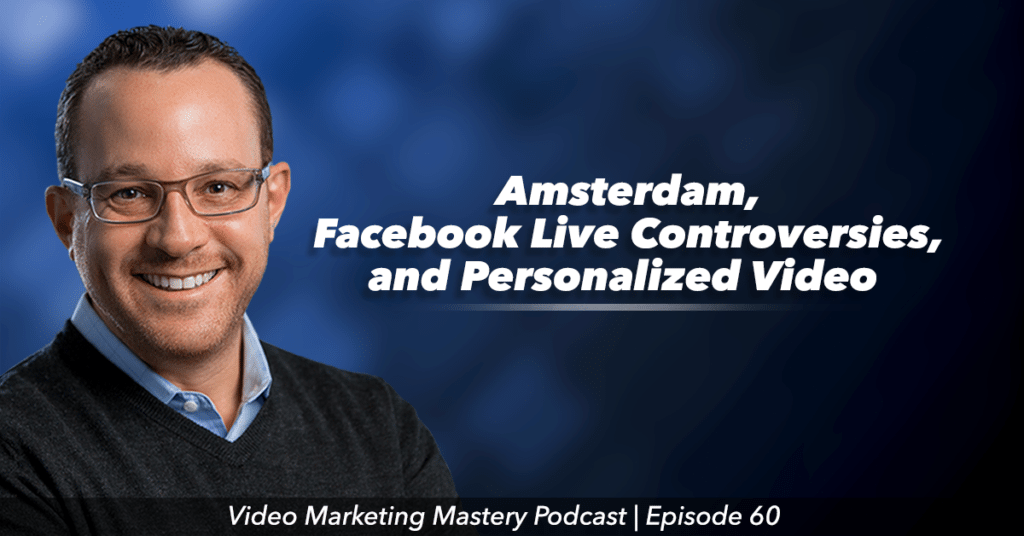 The WireBuzz team and I had an exciting week as we made our way to Amsterdam for a client shoot. While we were there, I met up with some of the leading physicians in breast cancer at the 2017 European Cancer Congress to advise them on their live video strategy.
If you've listened to the last few podcast episodes, you might remember that 2017ECCO was the conference I was testing personalized video with; I created custom videos for conference attendees, where I introduced myself and invited them to meet with me during the event.
Well, the results are in. So tune into this podcast episode to see how it went!
If you like the show, please leave us an honest rating and review on iTunes. You'd really be helping me out!
NOTE: You can also listen to the episode here, or download the episode to your device (right click and save).
In This Episode, You'll Learn:
News Update: Amazon continues to grow, and is now

worth more than

the top 8 traditional retailers in the US combined

News Update: Jimmy John's employees shared a video of co-workers using the sandwich bread dough as a

jump rope

… find out how I would handle this news if I were a marketer for one of their biggest competitor, Subway!

News Update: Did you see the

360VR video

White House tour, hosted by the Obamas? Find out why this is a bad marketing move by the former administration

News Update: anyone caught with drone footage of the inauguration or White House

could be fined

up to $1,414 and some could even face time behind bars

News Update: Apple is finally getting ready to start making its own

original content

for Apple TV

News Update: Facebook Live continues to make headlines with users incriminating themselves in video

News Update: With the aim to promote up-and-coming video creators, YouTube is creating an "On the Rise"

trending tab

How my case study went with personalized video
Links & Resources
View from our train in London of the Tower Bridge.

Before leaving home, Todd found thirty British Pounds in his passport, perfect for a bottle of Rioja for the train.
Reviewing our rental lighting in Amsterdam before it gets delivered to our shoot location.
Kristo and David are ready for some action!
Every spot in Amsterdam is a postcard.
The Dylan entrance.
Look at the old wood floors.
Here I am, recording the podcast!
That's where the podcast was recorded, and you can see those chain smokers I was talking about. Talk about a great location for my asthma!
Thanks for Listening!
Thanks so much for listening to the show! Don't forget to subscribe on iTunes to get automatic updates when new episodes are available.
If you enjoyed the show, please share it using the social media buttons you see on the left.
Also, it would mean a lot to me if you would leave an honest rating and review on iTunes. Ratings and reviews not only help me serve you better, but they make a huge difference in the show's ranking on iTunes.
If you have any questions you'd like featured on the show, or if you would like to suggest an expert (yourself included!), please let us know HERE.