7 Practical Tips For Building an Engaged Community on YouTube (Ep. 21)
by TODD HARTLEY, on May 5, 2016 1:53:00 AM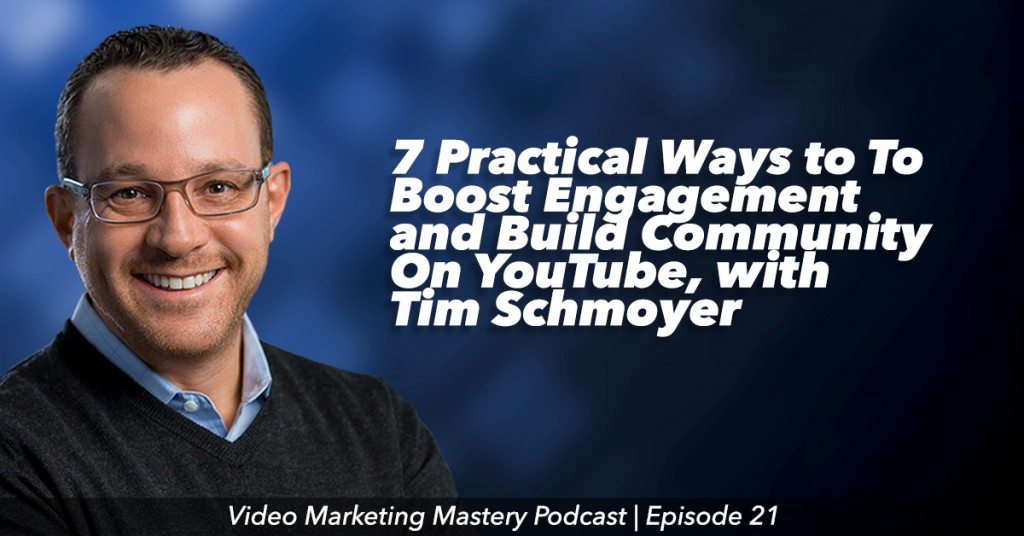 Whether your brand is on YouTube, or looking to get started with YouTube, one of the most critical elements of your strategy is generating engagement.
Marketers often think in terms of views, clicks, and ROI, but focusing your attention on building engagement and community can help you achieve all of your main objectives more quickly.
The reason is that YouTube's primary goal is generating ad revenue, which means they want people to stick around on YouTube for as long as possible. So the more your viewers engage with and watch your videos, the more visible they become.
There's just no way around being successful on YouTube without engagement.
Fortunately, in this episode of Video Marketing Mastery we have Tim Schmoyer from VideoCreators.com on to share 7 practical tips for boosting engagement on YouTube.
And when I say "practical," that's exactly what I mean -- you don't want to miss this episode of Video Marketing Mastery!
Get the episode on iTunes: http://apple.co/1TOJdey
If you like the show, please leave us an honest rating and review on iTunes. You'd really be helping me out!
NOTE: You can also listen to the episode here, or download the episode to your device (right click and save).
In This Episode, You'll Learn:
How Tim and his girlfriend discovered YouTube and started making videos 10 years ago

What Tim thinks is the biggest mistake video marketers make on YouTube

Why you need to start with strategy and develop a plan before creating any videos

How nonverbal communication affects the effectiveness of video

The importance of having a deeper mission

How transparency and vulnerability can help you build community

Why many of the top YouTube creators spend as much time creating titles and thumbnails as they do creating the rest of the video

How to create enticing titles and thumbnails

Your titles should be 70% written for people and 30% written for search engines -- you need the keyword, but you need the clicks more!

How to hook your viewers immediately in the first 15 seconds

The importance of aligning your title and thumbnail with the first 15 seconds of your video

The easiest way to get people to comment on your videos

The difference between "audience" and "community"

Why and how to feature members of your audience in videos on your channel

Why responding to your audience is so important for building community and engagement

The value of a consistency in terms of publishing frequency, format, and topic area

When it's appropriate to be vulnerable and authentic -- and when it's not!

How live-streaming can generate massive engagement in a short period of time
[Tweet "Every video view is coming from a real person. Don't squander your opportunity to make an impact."]
Links & Resources
Thanks for Listening!
Thanks so much for listening to the show! Don't forget to subscribe on iTunes to get automatic updates when new episodes are available.
If you enjoyed the show, please share it using the social media buttons you see on the left.
Also, it would mean a lot to me if you would leave an honest rating and review on iTunes. Ratings and reviews not only help me serve you better, but they make a huge difference in the show's ranking on iTunes.
If you have any questions you'd like featured on the show, or if you would like to suggest an expert (yourself included!), please let us know HERE.