20 Business Problems Video Solves (Ep. 370)
by TODD HARTLEY, on Feb 11, 2021 1:39:48 PM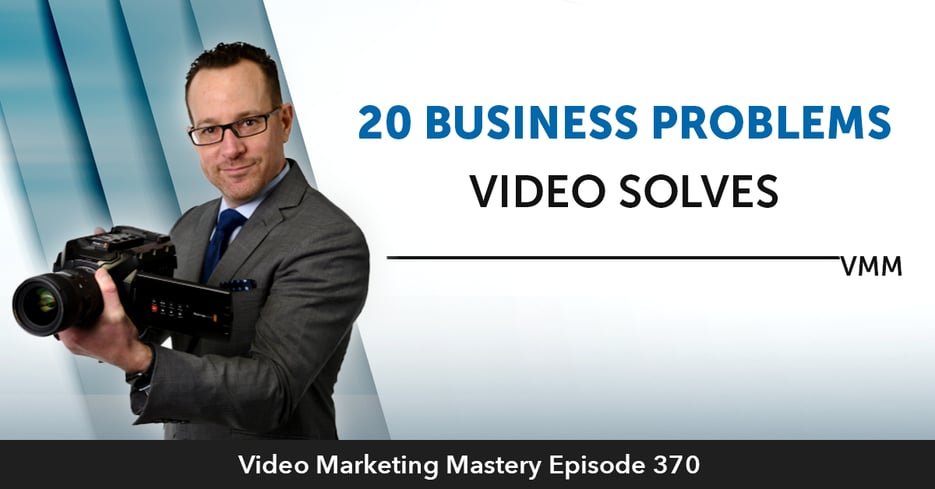 I'm about to fill you in on a secret: video can be a magic cure-all for your business if you know how to use it right. There are so many challenges that can come up in business and lead you to a dead end.
Whether you're struggling with generating leads, not getting enough people interacting with your social media, or even not enough email engagement, I'm going to provide you with actionable solutions. And it all starts with video!
In this episode of Video Marketing Mastery, I will drop a massive knowledge bomb and go through the top 20 problems sales and marketing teams encounter on a daily basis—and how video can help alleviate them. BOOM.
You've got 20 problems—but a video shouldn't be one! If you understand these pain points to the fullest, you will be able to resolve them and start optimizing your sales strategy solely through the power of video.
The 20 Business Problems Video Solves:
1. Longer sales cycle: convince & convert at faster rates
2. Generating leads w/ mini courses
3. Improving the efficiency of ad campaigns by retargeting viewers
4. A slow buyer's journey
5. Overcoming buyer's resistance
6. Overcoming Facebook's declining reach problem
7. Increasing the effectiveness of cold outreach
8. Making ad campaigns produce higher ROI
9. Humanizing your brand
10. Permanently increasing your website's conversion rates
11. Provide on-boarding experiences and training for successful customer use of your product
12. Lead level date: so sales team can follow up properly
13. Boost email engagement
14. How to make complex subjects more simple for customers
15. Training: improving your sales team
16. What the natera video process solves
17. Traffic generation: search engine optimization, advertising, etc.
18. Reduce customer support inquiries
19. Replace your sales team with on-demand video
20. Scaling the sales of a multi-national product or service across multiple languages
---
If you like the show, please leave us an honest rating and review on iTunes. You'd really be helping me out!
NOTE: You can also listen to the episode here, or download the episode to your device (right click and save).
In This Episode, You'll Learn:
How to generate leads with mini courses leaving a higher conversion rate.
Improve the efficiency of your ad campaigns.
Increase the effectiveness of cold reach with personalized video.
How to produce a higher ROI with a landing page video.
How to humanize your brand.
---
Links & Resources
Check out the WireBuzz

remote sales page

to see how we're using video
Follow me on

LinkedIn

and let me know you heard the podcast!
Thanks for Listening!
Thanks so much for listening to the show! Don't forget to subscribe on iTunes to get automatic updates when new episodes are available.
If you enjoyed the show, please share it using the social media buttons you see on the left.
Also, it would mean a lot to me if you would leave an honest rating and review on iTunes. Ratings and reviews not only help me serve you better, but they make a huge difference in the show's ranking on iTunes.
If you have any questions you'd like featured on the show, or if you would like to suggest an expert (yourself included!), please let us know HERE.