Capitalize on The Great Reshuffle with an enticing recruiting video
by WireBuzz, on Jul 1, 2022 1:00:25 PM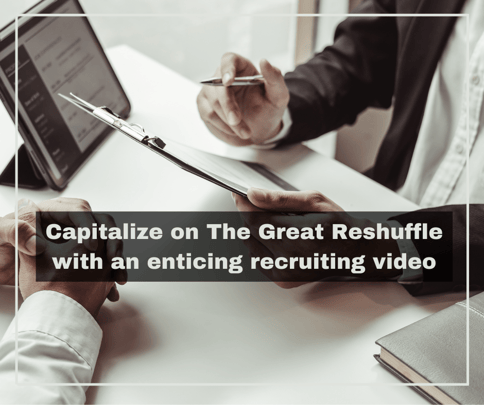 The Great Reshuffle is upon us. According to The New York Times, in 2021 more than 40 million people left their current jobs to explore new opportunities. And with such a vast pool of key talent, many companies are looking for exciting ways to attract potential employees.
So how do you cut through all the noise of the countless job postings and stand out among the rest? Let WireBuzz create a well-produced recruiting video to help attract job seekers!
This proved to be successful for our client Verana Health, who came to us last year with a top priority to produce recruiting videos to post on social media.
We produced two animated videos: One that highlighted their mission of advancing medicine and the other that focused on working for an exciting startup with growth potential. Both effectively highlight the innovative work they're doing and the impact they're making on patients. The videos were highly visual and included no voiceover, just text on screen incorporating a number of keywords and phrases that tied in with the company's overall messaging.
"It's been very helpful to tell the story of who we are, which can be difficult to do in a succinct and impactful way," said Lindsey Karberg, VP of Marketing for Verana Health. "It's motivating to see the numbers, but even more so when someone tells you they saw the video!"
Check out the recruiting videos we created for Verana Health:
Are you ready to turn The Great Reshuffle into The Great Opportunity? If so, WireBuzz is here to discuss your needs and help you determine which type of video strategy is best for you. Just go to wirebuzz.com/talk, and fill out the form to schedule a free 15 minute meeting.