How to Optimize Your YouTube Video Titles and Descriptions
by AMANDA MOLLINDO, on Dec 1, 2016 8:06:00 PM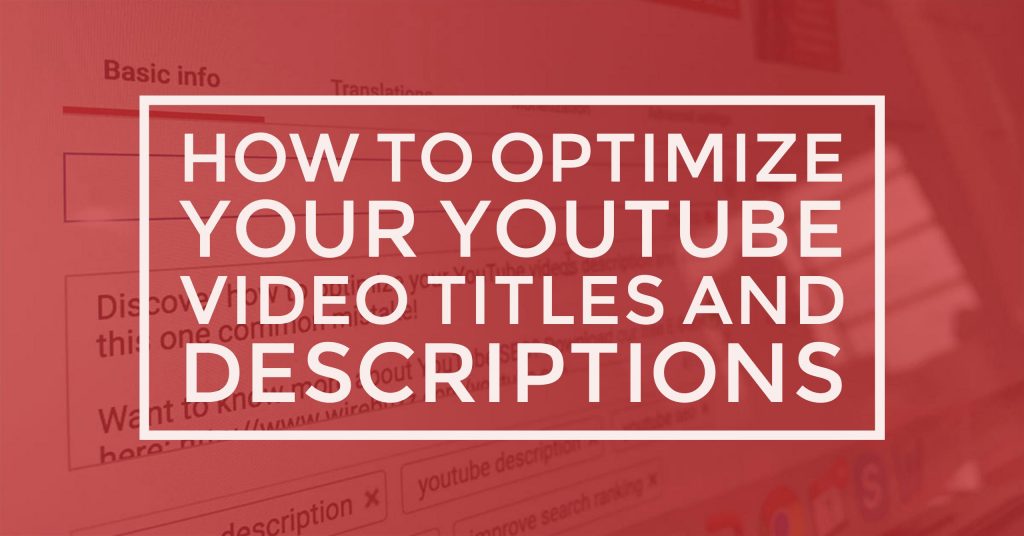 YouTube is the second largest search engine, right behind Google. And with over 1 billion users, there's a niche for everyone.
Starting a YouTube channel is a great way to engage with your audience and boost your thought leadership. Which is why plenty of businesses use it to get discovered and generate leads.
But it isn't for everyone...
YouTube isn't just a place to host a few random business videos. It takes time and commitment to build and maintain a YouTube channel.
If you're ready to make that commitment, you have to understand how YouTube works before you can gain any traction.
And perhaps most of all, you'll need to understand how to optimize your videos in order to see results.
Understanding YouTube's Ranking System
Did you know that video views don't really matter anymore?
Views are an outdated method of measuring your video's engagement. A video could have thousands of views, but if no one's actually watch it, the video's ranking is going to plummet in search results.
Ultimately, YouTube is a business, and ad revenue is what keeps the lights on. In order to generate income, they need to get ads in front of viewers.
So if you want to rank, you have to serve YouTube's interests, which means keeping viewers on YouTube as long as possible.
A good place to start is by focusing on improving the viewing experience and getting your audience to stick around.
Your viewers don't want to be surprised by irrelevant content. They want a productive experience, so make sure you're targeting appropriate keywords and choosing relevant titles for your videos.
When you keep YouTube's goals in mind and optimize accordingly, they'll reward you by moving your video up in search!
Optimizing Your Videos for YouTube
Ideally, you'd begin the optimization process long before your video goes into production. If you really want to see success on YouTube, your video's production value and content have to be on-point.
But no matter where your video initially falls in search, there's always room for improvement.
Once you've uploaded your video and made it public, there are two main ways to help your video stand out from the crowd:
Write a clickable title that includes relevant keywords

Construct an enticing description
Both of these elements need to accurately represent the topic of your video to compel people to click-through and watch. You should be using this space to show the value your video brings, so people will realize why your video is the one they should pick.
Choosing a Title for your Video
The first thing users look at when they search for a video is a relevant title that will give them the answer they're looking for. But that's not the only function your video's title serves.
It also helps YouTube understand what your video is about, and when it should show up as a search result. That's why identifying keywords and including them in your title is one of the best ways to optimize your videos.
Catering to YouTube's ranking system and prospective viewers are equally important, so aim to write a title that achieves both goals. Even though you only have about 55-60 characters to work with, focus on showing the value of your video in a clear, concise way.
That said, you'll also need to make sure that your video actually uses the keyword you're targeting. If it's not used in the video, then YouTube will assume you're engaging in spammy behavior.
Crafting the perfect YouTube title can be a balancing act, so if you're not sure where to start, Todd shares exactly what you need to know in this video!
The Description
When it comes to your video's description, you've got a little more room to play.
But surprisingly, few people take advantage of the 5000 character limit.
And when they do, they don't use it wisely.
Unlike Cards and Annotations, which only allow you to promote an associated website linked to your YouTube account, you can include links to any URL in the description box. That's why you'll often see a link at the very start of the description, or somewhere within the first few sentences.
But when people visit YouTube, they're not searching for links the same way they are on Google. They want a video that will give them answers, and descriptions help them decide where to click.
Beneath the video's title, you have less than 130 characters to explain the value and relevance of your video to a user searching for a video to watch, and link are a waste of that space.
In fact, beginning your video's description with a link can actually damage your search rankings by lowering your click-through rates from search, a negative ranking signal!
So find out why you should avoid that common mistake, and discover how to best optimize your description in this video!
Your Optimization is Only as Good as Your Video
YouTube is no longer a place for novice creators to upload diary-style webcam videos.
People expect quality in both the content and the visuals, which is particularly important if you're up against stiff competition in your industry.
Your videos need to be helpful to your target audience. Everything that's said, visualized, and demonstrated should be determined beforehand.
Even the most clever video titles and descriptions mean nothing if your video doesn't provide value.
Remember: your video is the star of the show. The title and description are just the supporting cast, but they still play a key role in making sure your video shines!
If you want to learn even more about YouTube SEO, download our free E-Book!
And if you have questions or tips you'd like to share, let me know in the comments below!